About
Dotted with carefully cultivated gardens, the Zen Buddhist Tianning Temple, as well as many other archaeological sites, Changzhou is a charming, centrally-located town. The weather is mild, ranging from a low of just above freezing to a high of just below 90. Changzhou was first settled around 2700 years ago by people. Dinosaurs settled there much earlier and left piles and piles of evidence, which you can view in Changzhou's Dinosaur Park. The city is located 1.5 hours by high-speed train from both Nanjing and Shanghai if you need to get out and party – sadly, you may find that difficult in Changzhou.
Transportation
Air: Changzhou has a small airport located far outside of the main city. Many people don't use it, however, since Shanghai with its two large, international airports is nearby.
Train: There are two train stations. Changzhou Station is the main one, located near Tianning Temple, east of city center. You can catch trains, coach busses, and there is a travel center inside on the second floor with helpful information and prices. Several BRT bus routes end here, so it's easy to get to. The second station is called Changzhou North Station. It's smaller but newer, and is the station to use if you plan to travel to Beijing.
Bus: There are two bus systems in Changzhou. The BRT is extremely efficient, with its own bus lane on main roads, and many routes. It's the newer bus system. For older parts of the city or smaller roads, the Changzhou City Bus is the way to travel. These are two distinct systems, but it's easy to keep them separated; all BRT buses have the letter "B" in front of the bus number. Both systems cost only one Yuan to ride.
Taxi: Taxis are readily available, and the drivers are typically honest and charge your fare by the meter. During the day, it starts at ¥10, and after dark it goes up to ¥13.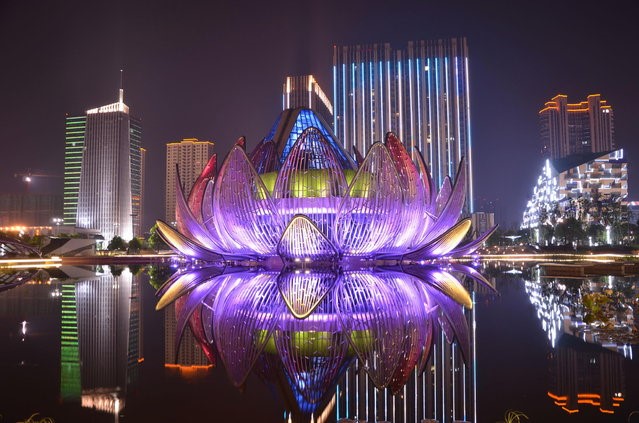 Shopping:
For malls and shopping, Changzhou has Wanda Plaza (with many western stores), New World, Injoy (located in the city center and to the south, in Wujin), and the recently opened Global Harbor (at the far north end of the city). Nan Dajie (South Street) is considered "city center", and offers lots of shopping and places to eat also. Wujin used to be a separate southern city, before it was absorbed by Changzhou and made a district; so it also has an Injoy and Wanda Mall. Changzhou has a Metro and a few Auchans for western grocery needs. Walmart and Tesco are perfectly sufficient for day to day necessities. If you have a curvy figure or bigger feet, Tesco and Walmart are also your best bet for well-fitting, reasonably priced clothes.
Food and Drink:
New Bere (in Jiangsu New World Mall), Monkey King (2 locations), Summer (2 locations) and Laya Burger (Injoy) are great western food spots. "Grandma's House" is a great place to try many traditional Chinese dishes, located in Injoy.
Coffee is everywhere; but if you want something besides Starbucks, a past EA favorite is Zoo Coffee (near Wanda Plaza). Fine Tree Coffee is situated behind Injoy Mall along the river; it's located in an old Chinese style building on Comb Street. When the weather is pretty, it's great to sit out on the deck that overlooks the river.
For nightlife, Canal 5 is great. Also a scenic spot during the day, Canal 5 is an old factory that has been converted into an artistic and cultural hub. It has several coffee spots, several art galleries, a winery, and a few bars. Hetaoli (核桃里) and Maze are two great bars centrally located in the city.
There are also many dishes particular to Changzhou that you should check out and try:
Historical Sites and Sightseeing Opportunities:
Wujin art district (south city)
Canal 5
"Old Town" on Comb Street (behind Injoy Mall)
Tianning Temple and Hongmei Park
People's Park (near Nan Dajie) and Xinbei Park (Near Wanda Plaza)
Changzhou Zoo/Museum/Yancheng Remains (all located very near each other in Wujin)
Dinosaur Park (theme park and museum)
City Planning Center (inside the Lotus, in Wujin art district)
Nearby attractions:
Tianmu Lake (just south-west of Wujin)
Joyland Theme Park (south of Wujin)
Wuxi, Nanjing, Suzhou, and Hangzhou are all fascinating cities, less than 30 minutes away by high speed train. They are certainly worth visiting.